Upcoming gigs:
June 5 — teaching Subject:Matter Company Class, Deborah Mason Performing Arts Center, Boston, MA.
June 26 — duo with Leland Baker in the Kennedy Plaza ice skating rink. Providence, RI.
July 2 — Solidarity Series II created by Christina Carminucci, featuring Melissa Almaguer (taps), Orlando Hernández (taps), Kush Abadey (drums), Michael King (piano), & Eric Wheeler (bass). Michiko Studios, NYC.
July 10 — "Songbook" with Subject:Matter, directed by Ian Berg, featuring Sam Emmond, Jackson Clayton, Orlando Hernández, and Max Ridley (bass), Lee Fish (drums), & Gregory Groover, Jr. (saxophone). Brattleboro, VT.
July 15 — Danny Fisher-Lochhead Tap Quartet, with Danny (saxophone), Orlando Hernández (taps), Ross Gallagher (bass), & Ryan Blotnick (guitar). Fogtown Brewing Company, Ellsworth, ME.
July 17 — Danny Fisher-Lochhead Tap Quartet at the Deer Isle Jazz Festival, opening for Hamid Drake trio. Stonington Opera House, Deer Isle, ME.
July 26-August 10 — residency with Music From the Sole at City College (NYC).
August 7-8 — teaching, Boston Tap Party, Deborah Mason Performing Arts Center, Boston, MA.
August 13-15 — A Pageant for Providence, created by Tyler Dobrowsky and Taibi Magar. Providence, RI.
August 20-21 — Provincetown Dance Festival, produced by the Truro Center for the Arts and the Adam Miller Dance Project, with Leland Baker & Nafis White. Truro, MA.
August 22 — "Songbook" with Subject:Matter. Wayland, MA.
---
I was a part of a new production called The Mayor of Harlem created by Dormeshia, Derick K. Grant, and Jason Samuels Smith, presented by the Joyce Theater in NYC as part of the 4th Annual Tap Family Reunion. Brian Seibert, reviewing for The New York Times, wrote, "[T]he show features a six-member ensemble that actually handles most of the dancing — a tap chorus significantly more skilled and sophisticated, technically and rhythmically, than usually found on Broadway stages."
The Tap Villainz put this event together each year for May 25, National Tap Dance Day and the birthday of Bill "Bojangles" Robinson. May 25, 2021, also marks one year since the police murder of George Floyd. Rest in Power. We celebrate the art form of tap dance for its uplifting of Black humanity and for its rejection of white supremacist systems that continue to devalue and murder Black people. This juxtaposition of birth and death seems to call for a deep honesty about the history of tap dance and this country.
---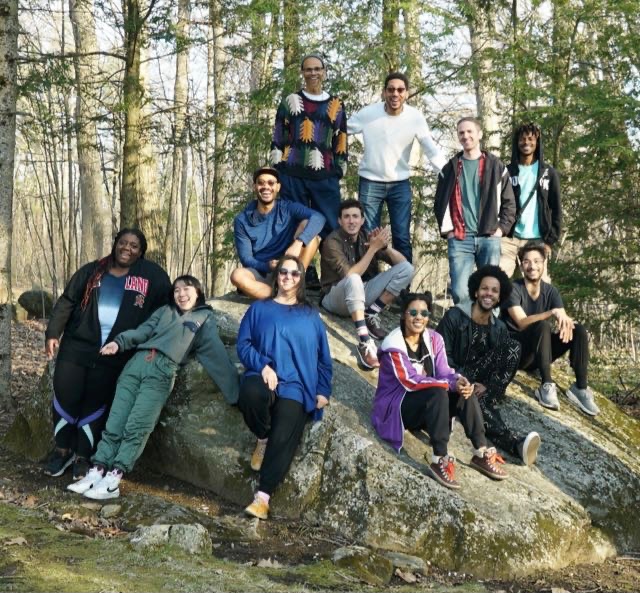 I got to take part in a bubble residency at Jacob's Pillow with Music From the Sole, directed by Leonardo Sandoval and Gregory Richardson. This was my first time dancing with the company and my first time in many months of the pandemic getting to share space with other people like this. It was so dope !! dancing, playing music, hanging, & learning.
---
Stay tuned — Vatic Kuumba and I are working on an event and video project that will begin this summer 2021. We're fortunate to be recipients of the New Work New England grant from NEFA and a Local Artist Commission grant from FirstWorks, which will support the project. Find out more here & here.
---
Check out this article published in HowlRound Theatre Commons by Caroline Sprague about the COVID-safe performance events that Shey Rivera has been curating, re-networking possibilities of power & community towards an anti-racist practice. It includes a section about my performance in the Wilbury Group's Decameron from August 2020 — about when a white person told me that my dancing was "primal"… 🐒
---
I'm thrilled to be a commissioned artist for the DANCE NOW NYC 25th Anniversary Season, which has gone virtual in response to the pandemic. Throughout the year, DN is releasing chapters of new commissions and archival works.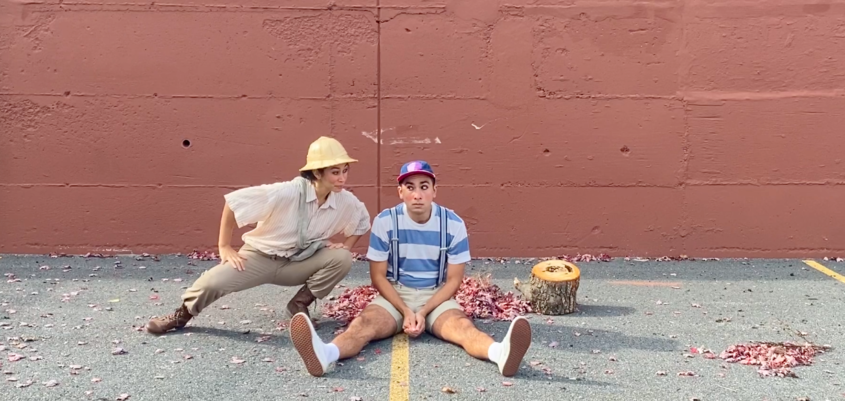 In Chapter 3, you can see the piece I made with Octavia Chavez-Richmond entitled When my mother was killed, I woke up here, a dangerous duet between a motherless Boy and the mysterious Mr. Bags… I'm really curious what you'll think. You can get tickets to the virtual festival here.
And check out an interview about the project here! I got to talk with the wonderful Paul Hamilton about my work & much more as a guest on the podcast Pod de Deux.
---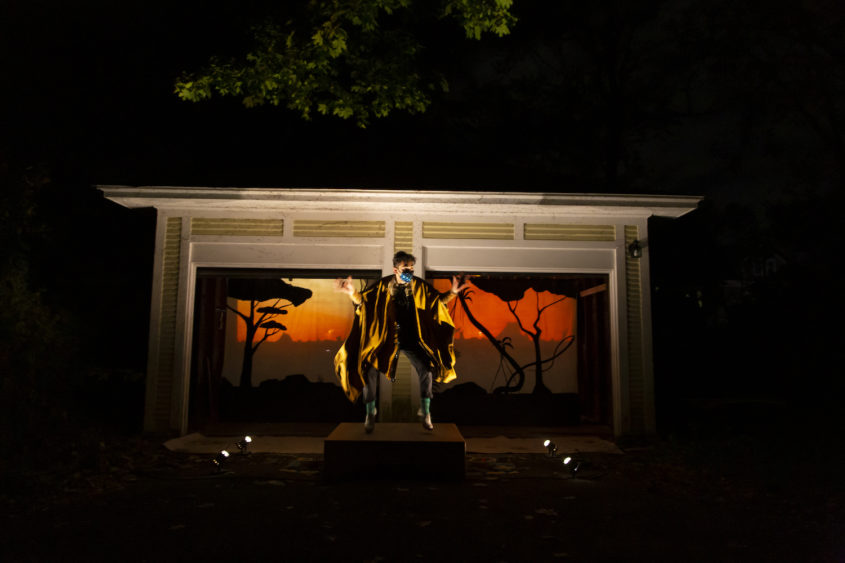 I got to be part of a cold, very fun Halloween performance in New Haven. Tatyana-Marie Carlo, Aileen McGroddy, and I created a garage-specific piece as part of Boitatá, a COVID-safe theater experience offered as an alternative to trick-or-treating for families in the East Rock neighborhood of New Haven, CT. The event was produced by Addie Gorlin, An-lin Dauber, and Ludmila Brito.
---
As part of the Brown Arts Initiative's Remaking the Real festival in September 2020, saxophonist Leland Baker and I recorded a concert & conversation called Pass Me Not. In it, we celebrate African diasporic and Black American culture, chopping it up with moderator Erik DeLuca about the deep contexts of tap dance and jazz music.
In late October, Leland and I also performed together in the show Routes & Roots, presented by the Dance Complex at the newly created COVID-safe Starlight Square (Cambridge, MA).
---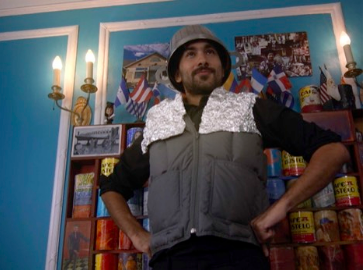 My 8-year-old self singing songs from Hombre de la Mancha with a pot on my head would be proud. I got to play el ingenioso caballero Don Quixote in a series of bilingual educational videos produced by Rhode Island Latino Arts, directed by Tatyana-Marie Carlo and shot by Alberto Genao. The videos and the accompanying lesson plans are intended for multilingual learners in 6-8 grade, and were made possible through a grant from the RI Department of Education. Check them out here.
---
I was a featured artist in the Summer Beats Concert Series, presented by FirstWorks and the Roger Williams Park Conservancy. On August 13, 2020, I performed in the park with saxophonist Leland Baker — we met recently through the BAI grant and have been playing and developing work together.
We dedicate this performance to our black and brown brothers and sisters who have been victims of police brutality and state violence. Our hearts and bodies are heavy. It needs to stop. Defund the police.
---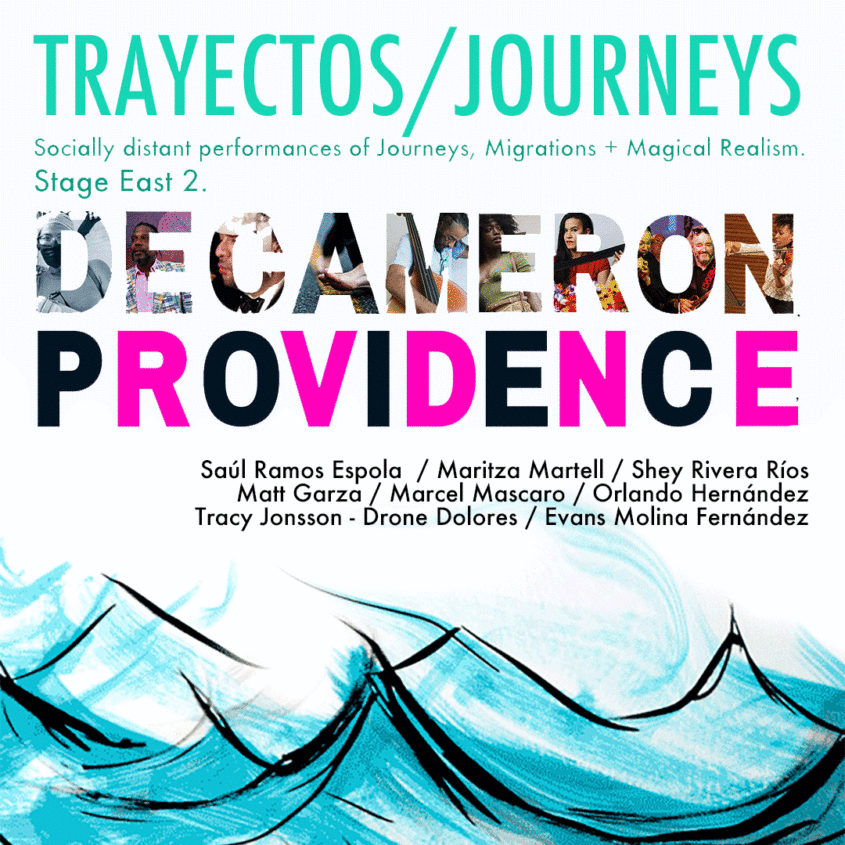 I had the opportunity to perform in the socially distanced DECAMERON Providence, produced by the Wilbury Theatre Group and WaterFire Arts Center. Audience members were led in small groups around multiple stages — I was on the Trayectos/Journeys stage, curated by Arte Latino of New England and Shey Rivera.
---
The first project I got to work on in the pandemic was a music video for Kufa Castro's "Aquí Me Quedo," directed by Alberto Genao. Hop into the rhythm garden…
---
I'm very grateful and excited to be the recipient of a Community Development Grant from the Brown Arts Initiative. In addition to receiving a financial award, I'll be in a cohort of amazing artists and share work in the first year of programming for BAI's Remaking the Real. 🙏🏽🙏🏽
---
Like so many performing artists, I've watched all my gigs get canceled or postponed due to COVID-19. But, I feel extremely grateful for my health and stability, and I see this as a time to dig deep into what kind of world I want my art practice to be a part of.
One organization that's been orienting my thoughts and actions during this time is AMOR RI, Alianza para Movilizar Nuestra Resistencia / Alliance to Mobilize Our Resistance. AMOR is a coalition of grassroots organizations working for racial and economic justice in RI and southern New England. During the pandemic, AMOR has been coordinating deliveries of funds, food, and supplies to hundreds of people, as well as organizing protests against prisons, ICE detention facilities, and state violence against black and immigrant communities.
---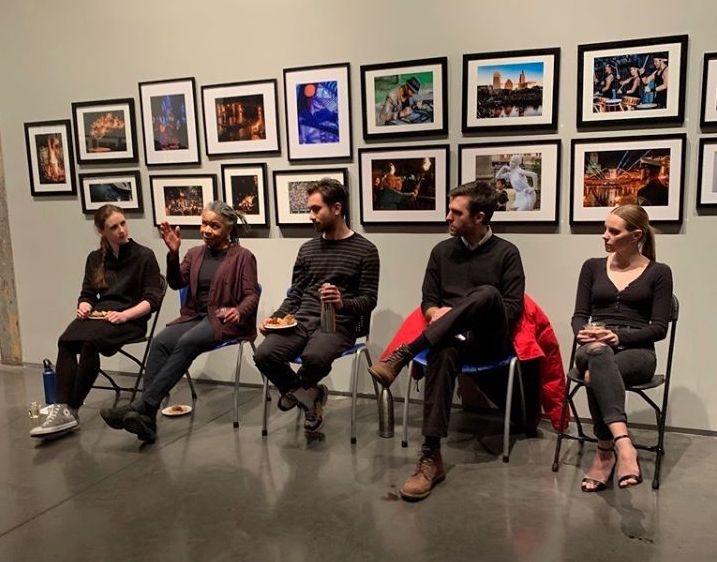 Just before the pandemic hit, in early March, I got to be a part of the first Motion State Dance Festival. Performances were held at the WaterFire Arts Center in Providence. Danny Fisher-Lochhead and I premiered a new piece called Jerusalem Artichoke.
A highlight was getting to meet Bebe Miller. This is us listening to her at our post-show talkback.
---
I've been missing iTMRW. Dubbed a "sci-fi ballet," this is a live performance of a concept album by the band Arc Iris with dance-theater choreography by Danielle Davidson. We premiered it in January at A.R.T.'s OBERON in Cambridge, MA. Our NYC premiere at Le Poisson Rouge fell through due to COVID-19, but I'm hopeful we'll share the show with more people when the conditions are right.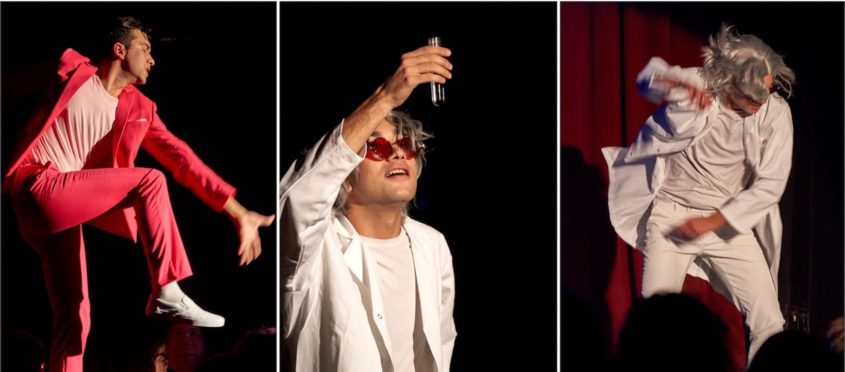 ---
Some of these have been canceled, but this is a partial schedule of what I was slated to do in 2020.
Solo performances:
Sunday, January 12, 4pm @Joe's Pub (NYC) – "Aguacero" as part of

DANCE NOW

Encore of the Encore for APAP
Saturday, March 5-7, TBA @WaterFire Arts Center (Providence, RI) – part of the inaugural

Motion State Dance Festival

Friday, August 7, TBA @SteelStacks (Bethlehem, PA) – part of

Musikfest
Performances with Subject:Matter:
Thursday, January 16, 7:30pm @Salem State University (Salem, MA) – Songbook & Blowout
Friday, February 14, 8pm @Wesleyan University (Middletown, CT) – Blowout as part of New England Dance on Tour (NEDoT)
Saturday, April 25, 7pm @Jacob's Pillow (Becket, MA) – Blowout as part of NEDoT
Sunday, August 2, TBA @Bates Dance Festival (Lewiston, ME) – Blowout as part of NEDoT
Saturday&Sunday, August 8-9, TBA @SteelStacks (Bethlehem, PA) – Songbook as part of Musikfest
Performances of iTMRW: A Sci-Fi Ballet, a new project by the experimental pop band Arc Iris with choreography by Danielle Davidson:
January 24, 8pm PREVIEW @The Reliquarium HQ (Lincoln, RI)
January 25, 8:30pm @Oberon (Boston, MA)
January 26, 7:30pm @Oberon (Boston, MA)
Feb. 29, 7pm @ArtsRiot (Burlington, VT)
March 13, 8pm @Shea Theater Arts Center (Turner Falls, MA)
March 18, 7:30pm @Le Poisson Rouge (NYC)
---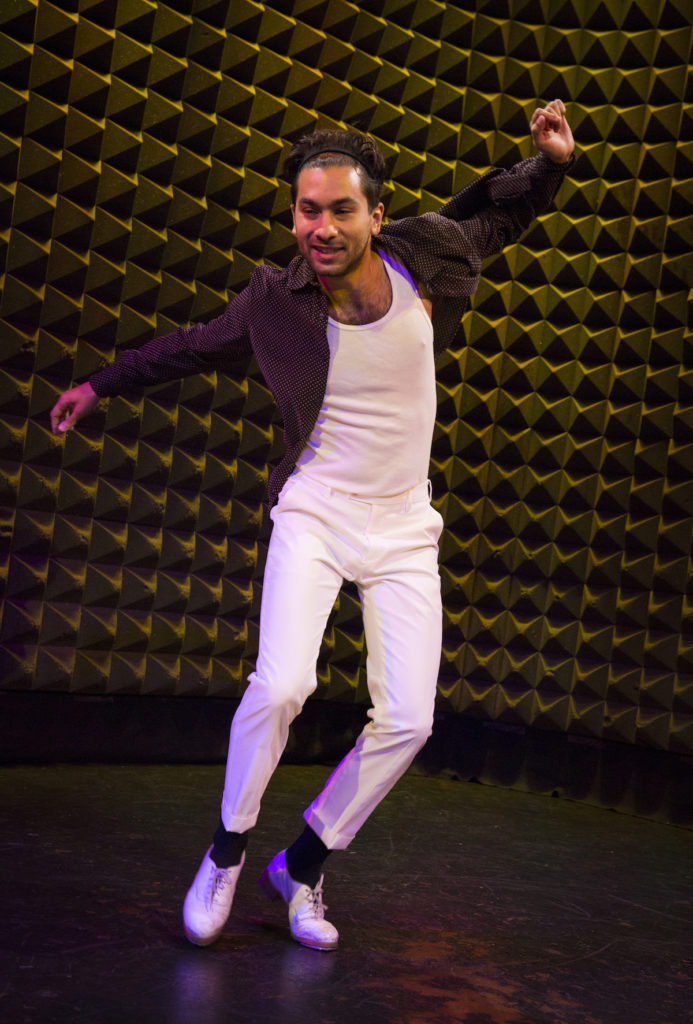 In September, I performed at Joe's Pub as part of the 2019 DANCE NOW Festival, first on September 6 and then with nine other selected works in the Sept. 26 Encore Program. I shared a new piece called "Aguacero."
Quinn Batson, a dance reviewer for Offoffoff.com, wrote, "The gem of 2019 was [A]guacero, a beyond-tap solo by Orlando Hernández. To music by Totó la Momposina, Hernández spent five minutes blowing us away, with polyrhythms, cross-rhythms and flow."
---
I'm honored and super appreciative to be one of this year's recipients of the Rebecca Blunk Fund Award from NEFA. 🙏🏽🙏🏽 It means a lot to get this support, and to be in the company of the other artists who received it, Toby MacNutt and Geo Neptune.
---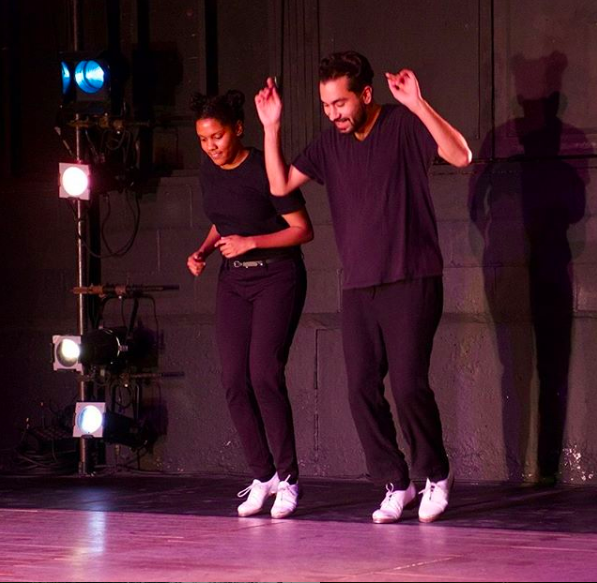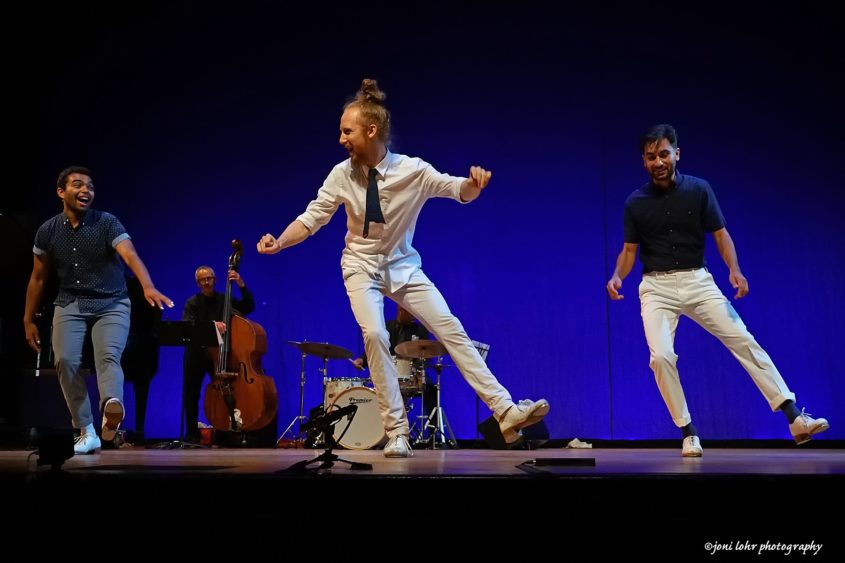 ---
I'm really excited to be dancing with Boston-based tap dance company Subject:Matter, directed by Ian Berg! The first show I'll be doing with them is at the Montreal Fringe Festival from June 8-16, 2019.
---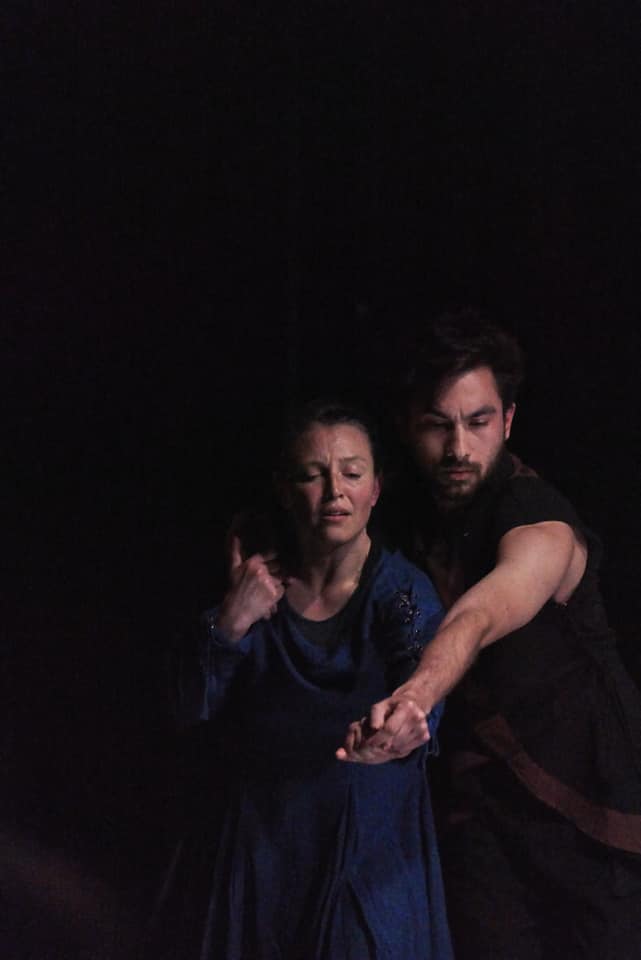 In early 2019, I had the opportunity to work with dancer & choreographer Danielle Davidson and cellist & composer Adrienne Taylor to develop a new piece entitled Arch. This piece had the support of an Individual Project Grant from the RI State Council on the Arts and of the AS220 Dance Studio. We performed it at the Providence Movement Festival (AS220) and at DANCE NOW Boston (The Dance Complex), curated by David Parker; on June 21 and 22, we'll be presenting it at the Provincetown Dance Festival, directed by Adam Miller.
---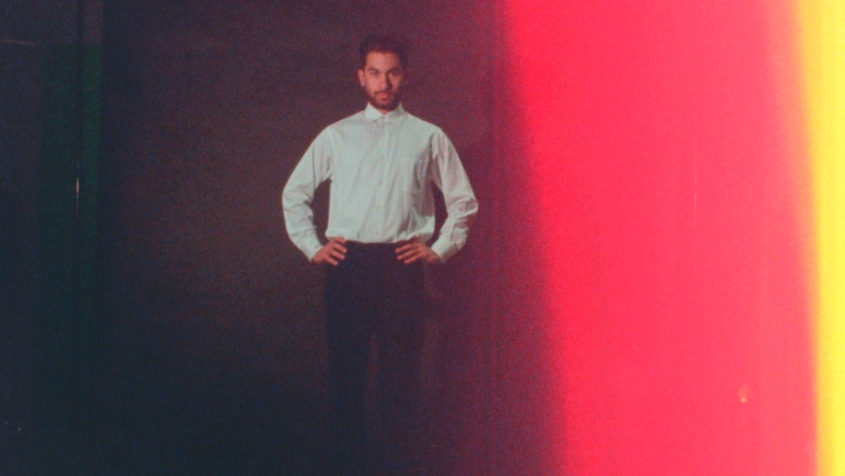 I had the chance to record tap dance on "March Macabre" by saxophonist and composer Quinsin Nachoff, a song off his new album Path of Totality — and then to work with filmmaker Željka Blakšić aka Gita Blak on a piece accompanying the song. Check me out squashing fascists in 16mm 🙂
---
I'm honored to be the recipient of the 2019 Fellowship in Choreography from the Rhode Island State Council on the Arts!! My work will be featured in the RISCA Fellowship Exhibition going up in February at the Warwick Center for the Arts, and I'll be using the money from the fellowship towards developing a new dance piece.
---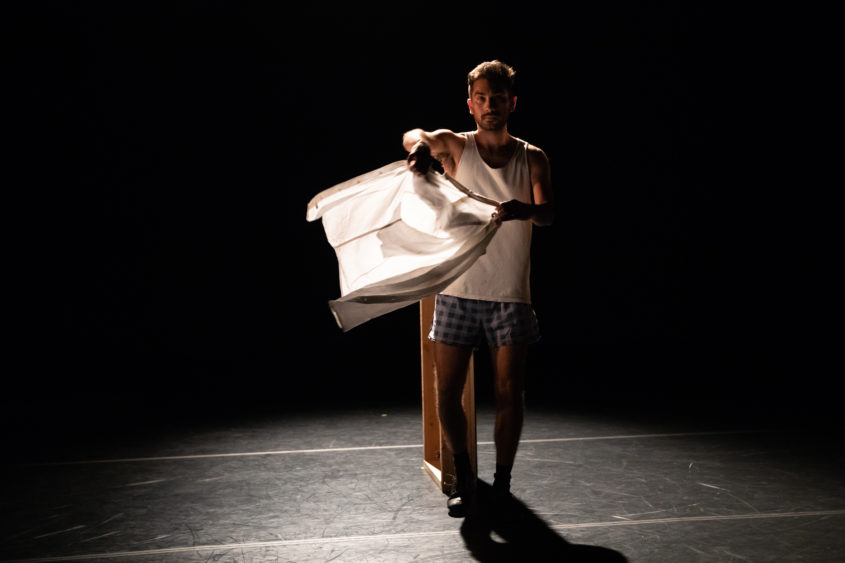 In early October 2018, I got to be a part of Solo: A Festival of Dance at On the Boards in Seattle, WA. This festival featured dancers from across the US and Canada, all working within the format of solo performance. I shared a new version of Instructions for the Safe Delivery of the Royal Knee.
---
On October 1, I performed in the series Movement Research at the Judson Church, "a high-visibility, low-tech forum on Monday nights at the Judson Memorial Church" in NYC. This was a very cool opportunity to share work in a space that's been a hub for creative thinking about dance.
---
On September 20, 2018, I shared my piece Knee-Heart Finds Another Island at the Granoff Center for the Creative Arts at Brown University, as part of ¿Se Aculilló?: La Sutura Tierna, curated by Benjamin Lundberg Torres Sánchez and Kat Chávez. This series features Latinx artists and performers exploring themes of discomfort, fear, trauma, and healing.
---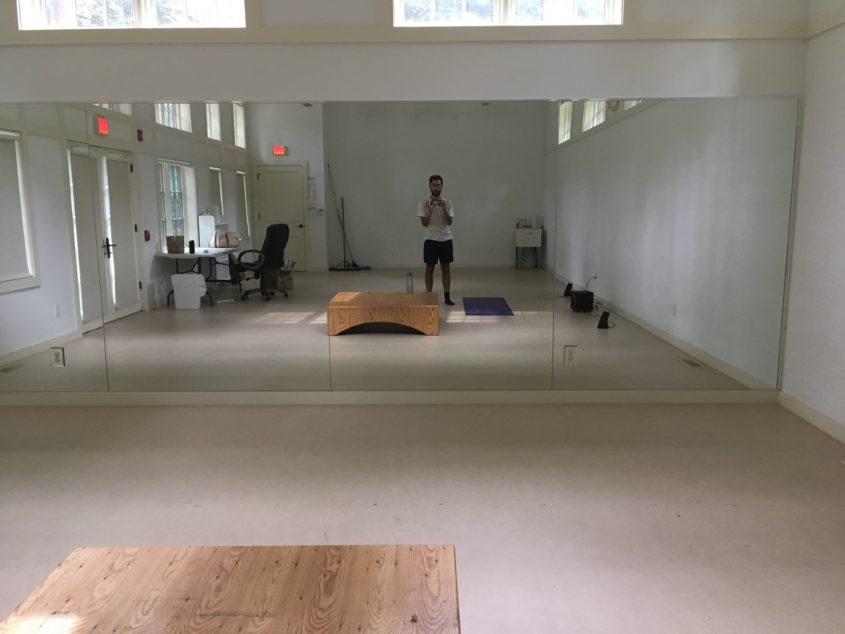 I was awarded a residency at Yaddo in the category of Performance Art. I spent the month of August in Saratoga Springs getting moving on a new dance piece, writing, and watching my friend Colette feed carrots to ground squirrels.
---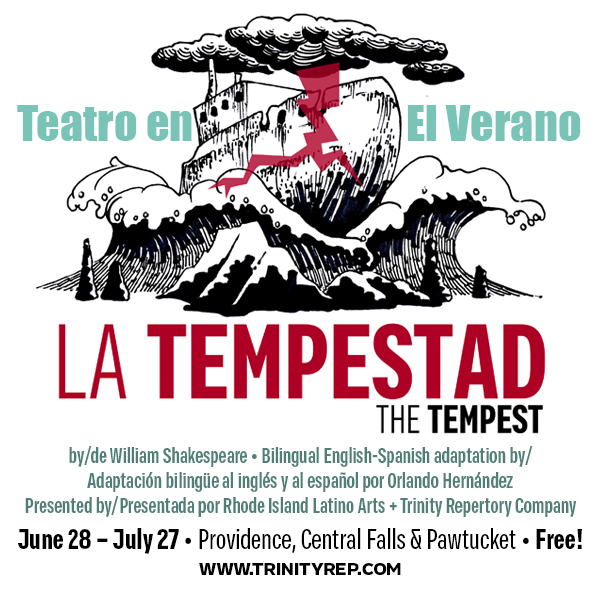 Summer 2018 was the 3rd year of Teatro en el Verano, a collaboration between Trinity Rep and Rhode Island Latino Arts, which brings free bilingual theater to parks and community spaces around RI. We presented a bilingual Spanish/English version of Shakespeare's The Tempest, directed by Tatyana-Marie Carlo. I did the translation/adaptation, with Kufa Castro, and I also served as Assistant Director and Tour Director.
---
On June 22+23, I performed in the 13th Annual Provincetown Dance Festival, organized by Adam Miller and presented by the Truro Center for the Arts at Castle Hill. I had a rly fun weekend in PTown and got to share the stage with some great dancers from RI & Mass. You can read a write-up of the festival here.
---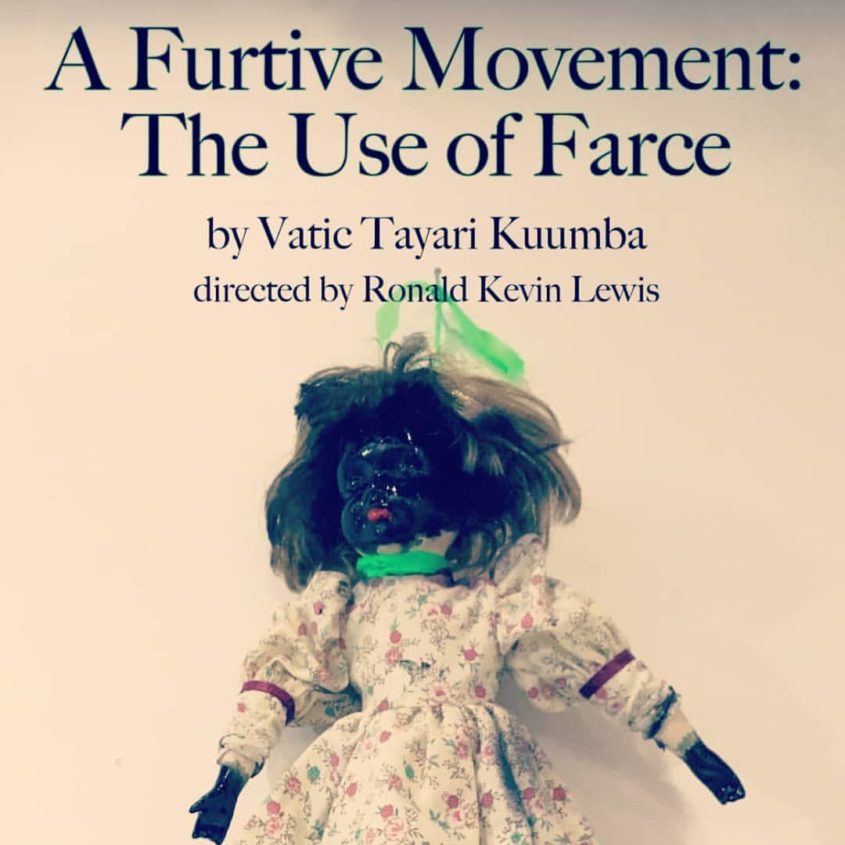 In early June, I was a part of the remounting of A Furtive Movement: The Use of Farce, written by Vatic Kuumba and directed by Ronald K. Lewis, a work of immersive social science fiction theater aimed at police and state violence against black people. I played Nathaniel Greene. I'm a big fan of this project. Watch an interview with the playwright here.
---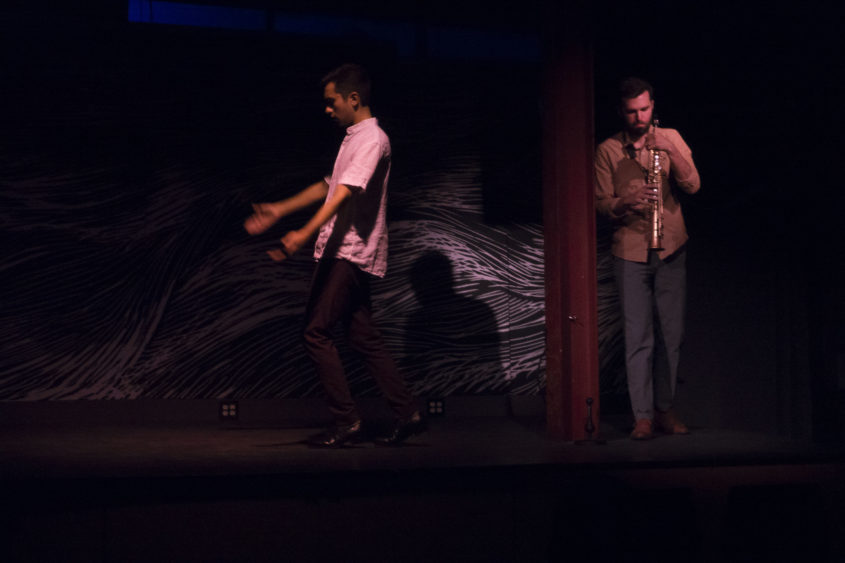 At the end of May, I performed at the SPACE Gallery in Portland, ME, in their Moving in SPACE: Works in Progress series. I collaborated with the Maine-based saxophonist and composer Danny Fisher-Lochhead on a piece called The Difference Between a Bell-Tower and a Cow, which departs from short melodies attributed to the Tupinambá Indians — first transcribed/dislocated by the Protestant missionary Jean de Léry in his 1578 account, History of a Voyage to the Land of Brazil.
---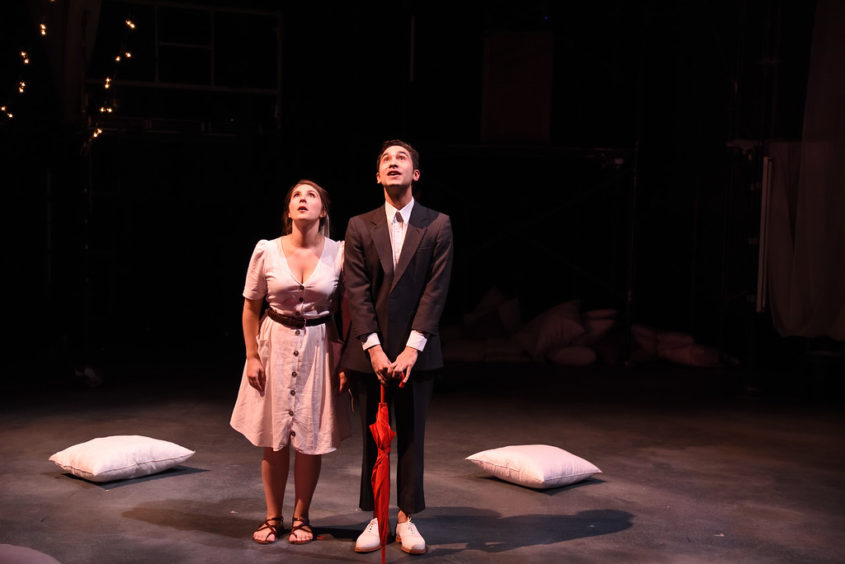 In May, I got to be a part of a production of Sarah Ruhl's Eurydice, the 2nd-year project of Addie Gorlin, a candidate in the Brown/Trinity MFA Directing Program. Performances were at the Pell Chafee Center. I played the Interesting Man and the freaky little Lord of the Underworld.
---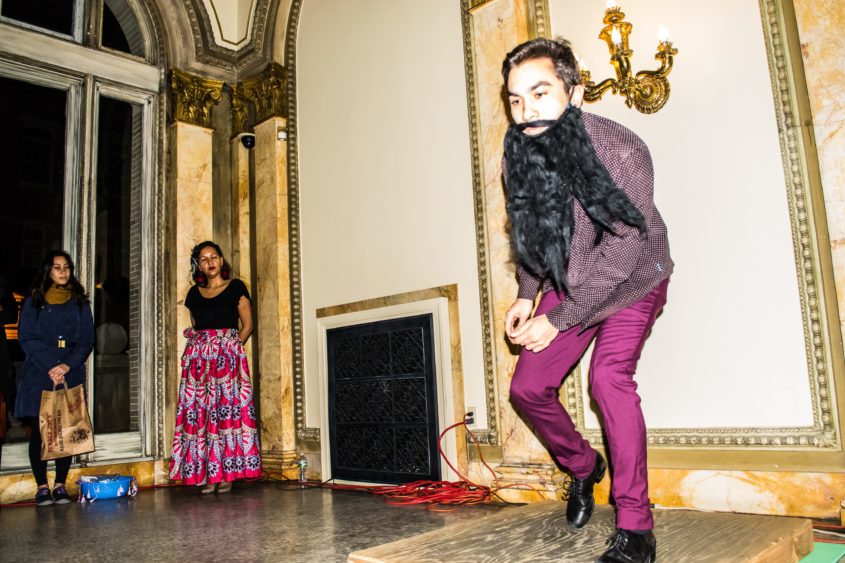 On February 28, with Sussy Santana, I performed at the Providence Public Library for the opening event of the 2018 Exhibition and Program Series HairBrained. I shared a new piece that explores the dangers of tugging on a conquistador's beard…
---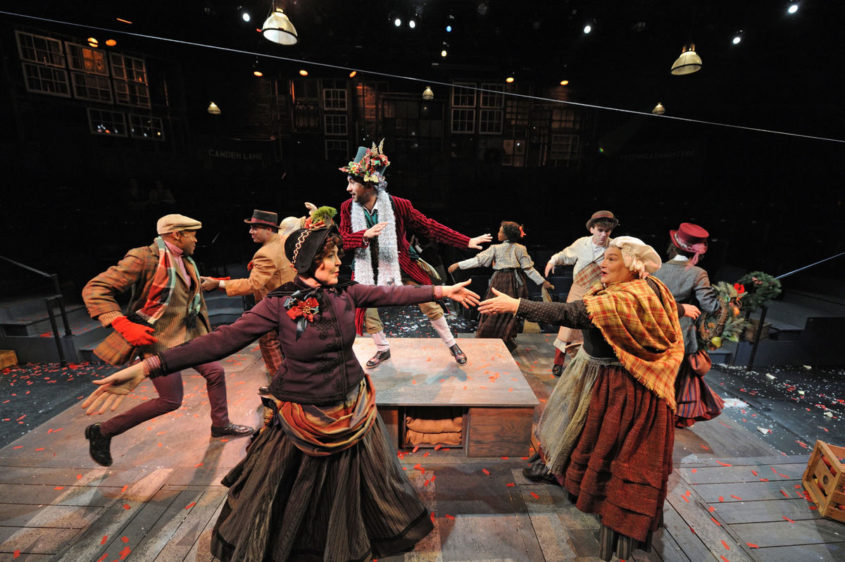 I played the Ghost of Christmas Present and the Undertaker's Man in Trinity Rep's 40th production of A Christmas Carol, adapted and directed by Angela Brazil and Stephen Thorne and choreographed by yon Tande. The show ran from November 9 through December 31.
Veronica Bruscini at BroadwayWorld Rhode Island wrote: "The showstopper of the spirits is Orlando Hernández's delightful Ghost of Christmas Present. […] Trinity capitalizes on Hernández's multiple and impressive talents, including a dazzling, blazing-fast display of tap dance and a lively presentation of juggling, to depict the Ghost's colorful personality and joyful expression. The Spirit of the Present is a master showman, […] but like Christmas Past, he addresses Scrooge sternly and resolutely to drive his message home."
You can read more press here and here.
---
On October 20, 2017, I shared a new piece, The Indios are like nocturnal birds…, in a live group show accompanying the exhibition ¿Se Aculilló? (Are You Scared?) at the AS220 Resident Gallery (Providence, RI). The exhibition and performance, curated by Benjamin Lundberg Torres Sánchez, featured Latinx artists exploring themes of discomfort and fear.
---
On September 29, 2017, I had the exciting opportunity to present my piece Instructions for the Safe Delivery of the Royal Knee at the Granoff Center for the Creative Arts at Brown University, as the closing performance of The Activist Body. This daylong symposium, organized by Sarah Wilbur, featured presentations, workshops, and performances promoting "public discourse about the body as a non-negotiable force shaping political, social, and institutional change." More about it here. I also taught a tap workshop for Brown's Department of Theatre Arts and Performance Studies, as part of its Master Class and Workshop Series.
---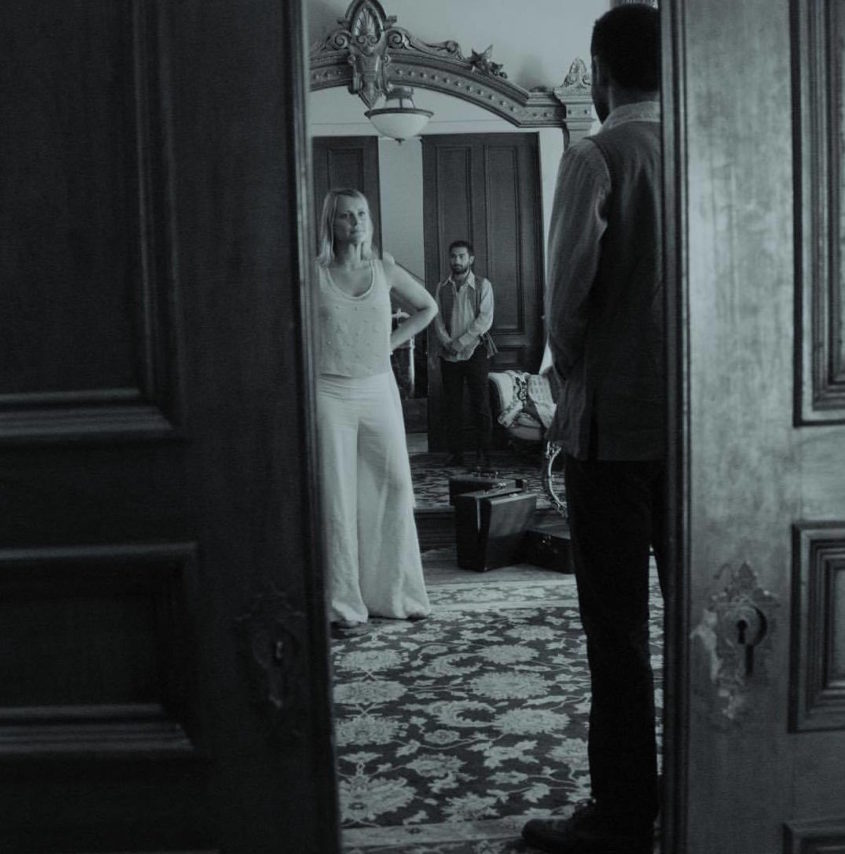 With the Spectrum Theater Ensemble, I performed in the Hotel Plays, directed by Erin Cawley and Clay Martin, a site-specific project that integrated scenes from Shakespeare and short plays by Tennessee Williams. In September, we performed it at the Barnaby Castle in Providence and the Gifford House in Provincetown, as part of the 12th Annual Tennessee Williams Theater Festival.
---
In July 2017, I got to play Romeo again in Trinity Rep and Rhode Island Latino Arts' bilingual Romeo and Juliet, directed by Tyler Dobrowski and Marcel Mascaró. We brought the free show to Providence parks, libraries, the Southside Cultural Center, WaterFire, Mixed Magic Theater, and the Steel Yard.
---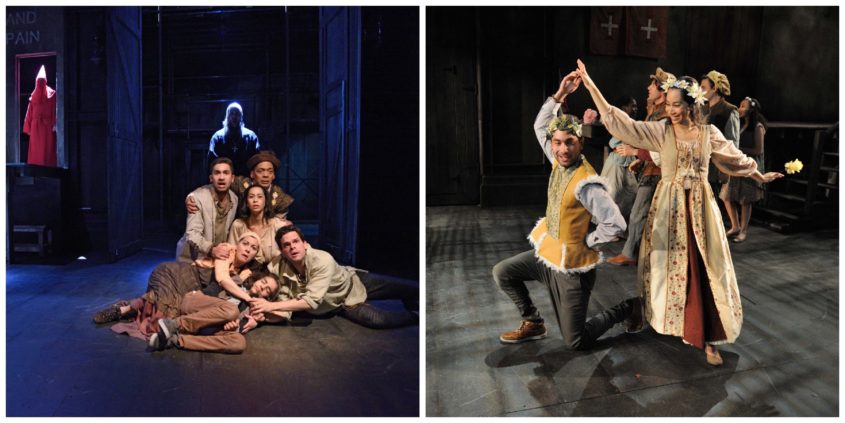 In May and June 2017, I played the role of Frondoso in Trinity Rep's production of Fuenteovejuna. The Golden Age Spanish play, written by Lope de Vega, was adapted into English by Curt Columbus and directed by Mark Valdez.
Here are a few reviews: ProJo — RI Central — The Smithfield Times
---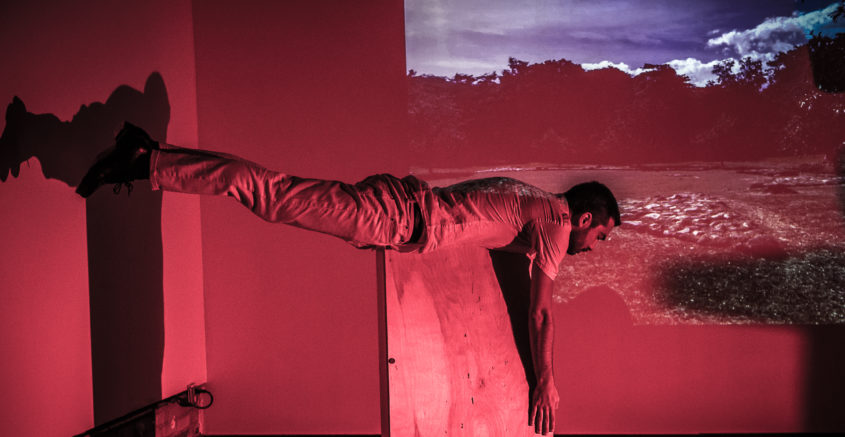 In April, I was a part of the Modern Movements Dance Festival at AS220 in Providence, RI, organized by Marc Bucai and Yon Tande. I presented a piece, Instructions for the Safe Delivery of the Royal Knee, in the festival's Mixed Bill performance, gave a workshop called "Living in the Break," and participated in a panel discussion moderated by Sarah Wilbur called "De-Mystifying Dance Making."
---
I had an amazing experience doing a residency for the month of February at La Casa de Cultura Ruth Hernández Torres in Río Piedras, Puerto Rico. The residency, La Espectacular, coordinated by Nibia Pastrana Santiago, Michel Nonó, and Gisela Rosario Ramos, was awarded to 10 Puerto Rican movement-based artists/collectives through the year. A highlight for me was getting to work with the theater artist and choreographer Javier Cardona.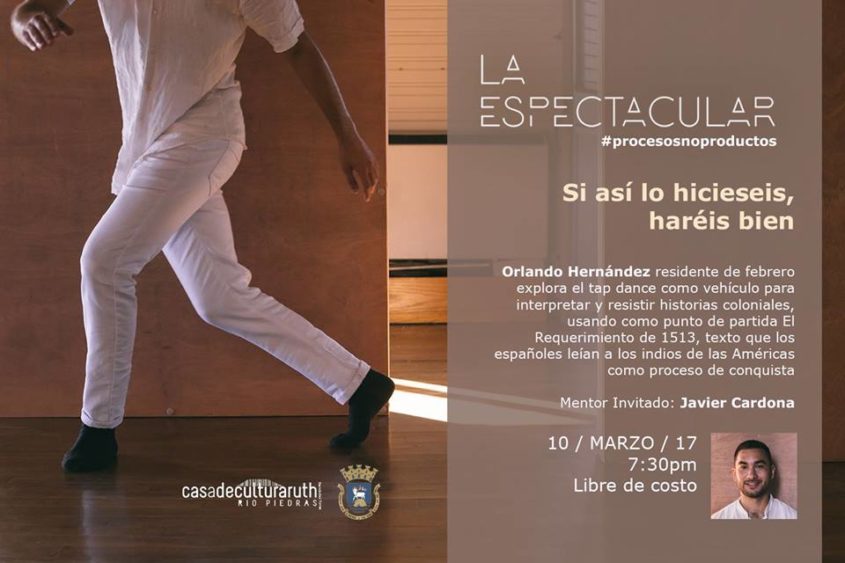 On March 10, at the end of my time there, I presented the piece Si así lo hicieseis, haréis bien… This departs from El Requerimiento of 1513, a legal and religious contract that conquering Spaniards were required to read to native peoples. It's part of a series of performances that I've been developing through tap dance and text, in which I explore and complicate narratives of Spanish and US colonialism, racial mixing and violence, and American popular traditions of dance and music.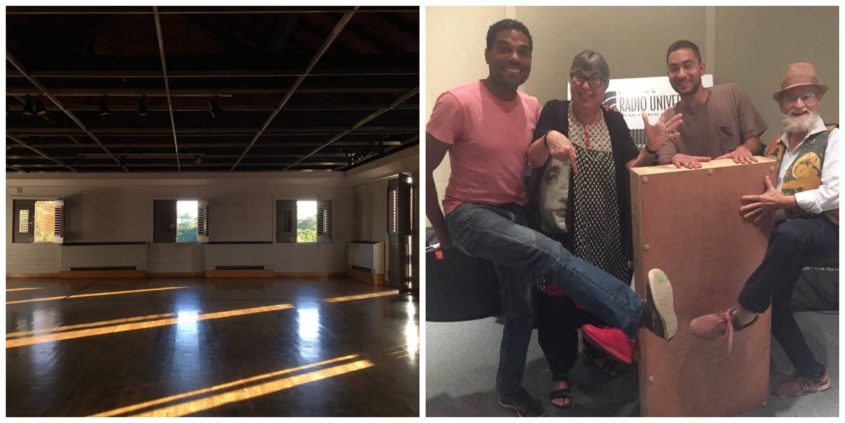 ---
On January 29, 2017, I presented the video Pánfilo de Narváez as part of the show Luna Loba: El Azufre at the AS220 Black Box, curated by Shey Rivera. This show, the fifth installment of the Luna Loba series, featured the work of 12 male-identified performers.
---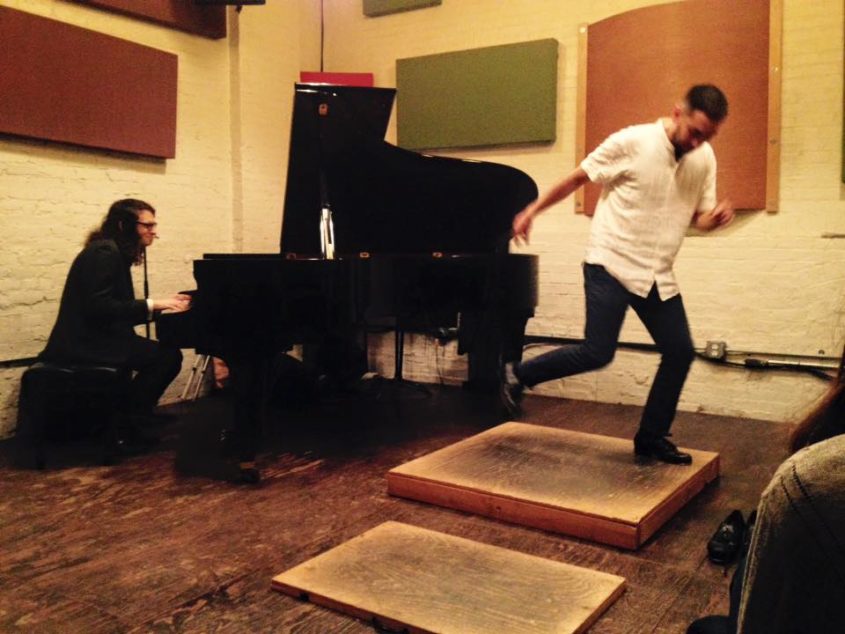 On December 9 and 10, Jacob Sacks and I presented our tap dance and piano duo project at Ibeam Brooklyn. We began collaborating in 2009. For these concerts, we played music by Thelonious Monk and original pieces+improvisations.
---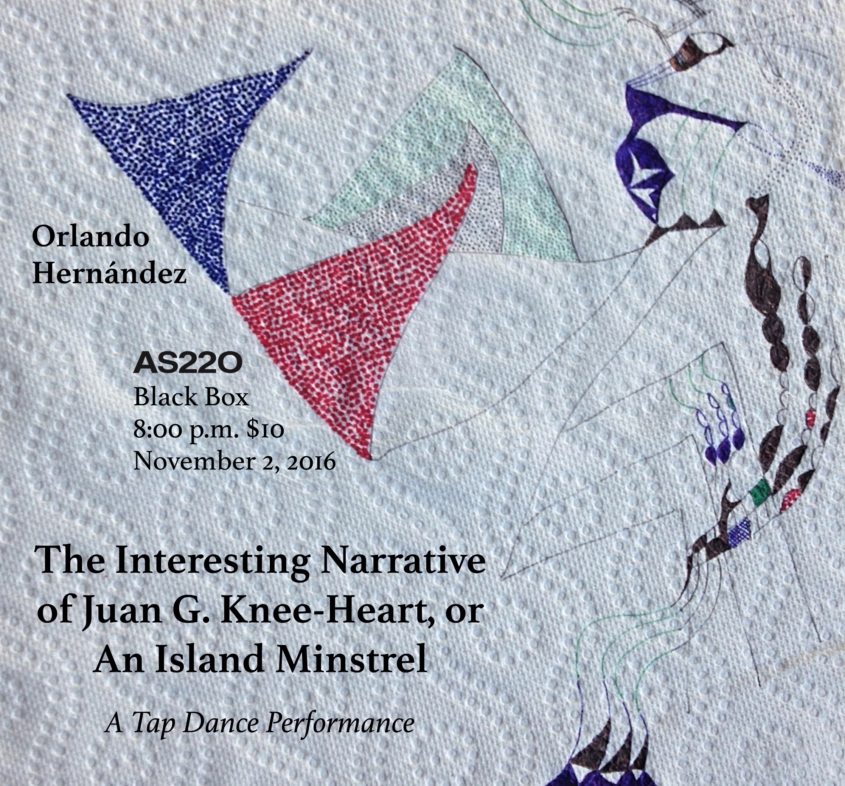 On November 2, at the AS220 Black Box, I presented The Interesting Narrative of Juan G. Knee-Heart, or An Island Minstrel, a solo tap dance performance with speech, music, and projections. This piece tells the story of a native of South America in the early years of the Spanish conquest, forcibly removed to an island in the Caribbean and left to gather information about the island and its inhabitants. I draw from Spanish chronicles and missionary texts, captivity narratives, and slave and native autobiographies.
---
I had the opportunity to participate in the nation-wide theater initiative The One-Minute Play Festival: Every 28 Hours and Our Response. Presented at Trinity Repertory Company on October 18, Our Response was a series of one-minute plays centered on issues of race, violence, and representation, and serving as a supplement/response to pieces first developed in 2014 in Ferguson, Missouri, after the police killing of Michael Brown.
I acted in some of these pieces and also wrote one of the plays performed that night, Scoop & Toss, a comment on the PROMESA Act and the US financial oversight board recently installed in power in Puerto Rico.
---
On October 14-16, at the Southside Cultural Center, Arte Latino of New England premiered La Jaula de las Locas. The play was directed by Maritza Martell and adapted into Spanish (from the movie The Birdcage) by Saúl Ramos. I played the role of Valentino and did the choreography.
---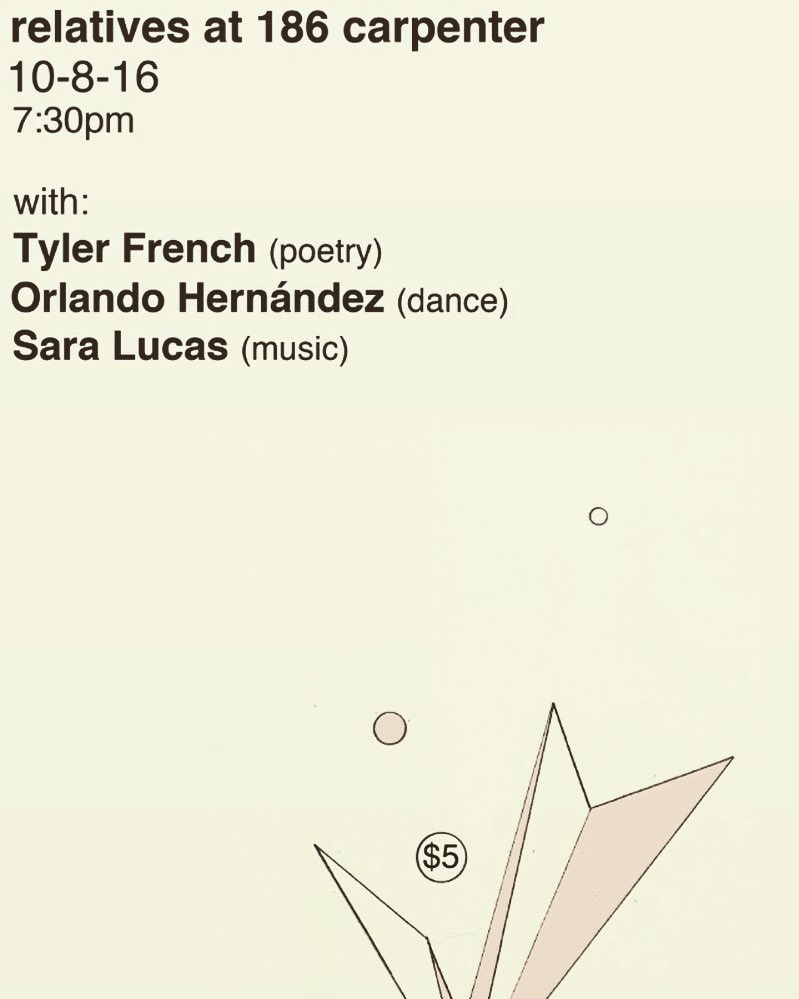 On October 8, I performed a tap dance set at the Providence gallery and venue 186 Carpenter Street. I was invited by the band the Relatives (Katie Vogel + Ian McClellan Davis) as part of their residency there.

---
During the summer (2016), I played Romeo in Trinity Repertory Company's bilingual production of Romeo & Juliet, adapted by Saúl Ramos and directed by Tyler Dobrowski. The show, a collaboration with Rhode Island Latino Arts, was the inaugural production of Trinity's program Shakespeare en el Verano. We performed throughout July at public parks and libraries around Providence, at the Southside Cultural Center, at the Temple to Music, and at Providence WaterFire.
Here are 3 interviews about the project: Rhode Island Public Radio — The Rhode Show — Downtown Providence Parks Conservancy
---
On June 4, 2016, I tap danced and played drums at the Providence Public Library as part of the RI Latino Arts presentation at PVD Fest, with the performers Kufa Castro and Marleny Luna.